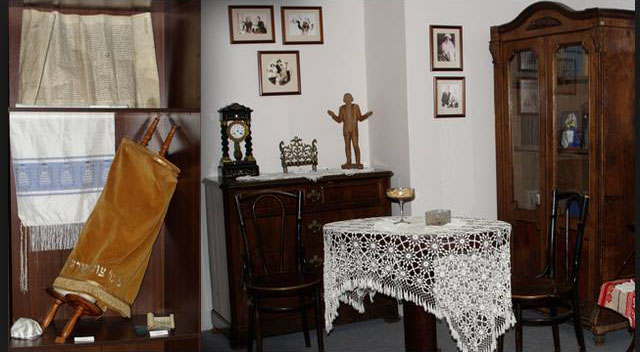 About the Sholom-Aleichem Museum
The classic of Yiddish literature, Sholom Aleichem, is a prominent writer of the past whose works stood the test of time and belong to the treasure house of the world culture.
"Sholom Aleichem" stands for "Peace to you!" This was the greeting echoing in every heart that over a hundred years ago Sholom Rabinovich, who soon became the most popular and the most favorite writher Sholom Aleichem, gave to the Jewish people.
He was a prominent publicist, a writer, and a public figure.
Main themes of the Museum's display are Sholom Aleichem and Kyiv, Sholom Aleichem and Ukraine. This is entirely logical, since Kyiv played an important role in the writer's life: this is where he was shaped and developed, both as an individual and as a writer. This is where he longed to be as a young man and as a well-known writer living outside of the borders of the Russian Empire, this is where he expressed the will to be buried, next to his father, as he lay sick in New York.
"Kyiv is my city. Staying away from it makes me sad."
Sholom Aleichem's response to a greetings telegram from Kyiv on the occasion of the 25th anniversary of his literary work. Italy, 1908.
Sholom Aleichem used to say about himself that he is the chronicler of Jewish life. "Why writing novels when life itself is a novel?" - reads an epigraph to his autobiographic novel "From the Fair." Life of a Jewish shtettl became the spring-well that nourished the writer's talent and inspiration. Our museum not only provides an account of life and work of the prominent writer. It also gives our visitor a chance to learn about the spiritual and material culture of the Jewish people.
Sholom Aleichem was born on March 2, 1859, in an ancient town of Pereyaslav (today Pereyaslav-Khmelnitskiy) to the family of a not too rich, not too poor merchant Nachum Rabinovich. The writer spent his childhood in Pereyaslav and in a small town of Voronkiv in Poltava Gubernia. It is Voronkiv that is often mentioned in Sholom Aleichem's works under the invented name of Kasrilovka.
Stand 1
A central street of Pereyaslav at the end of the 19th – early 20th century.
1. Portrait of Uncle Pinya (Sholom Aleichem used this character in a satire on Russian-Japanese War in his short novel "Uncle Pinya and Aunt Reizl" written in 1905).
2. Uncle Nisl (Nisan Rabinovich).
3. The house where Sholom Aleichem was born.
4. The city of Pereyaslav in Poltava Gubernia.
5. Photo of the writer's uncle and aunt. Sholom's mother died of cholera during an epidemic when he was 13 years old.
6. Certificate of graduation from a high school in Pereyaslav (1876).
7. A book on the history of the Jewish people.
Influenced by provincial enlighteners, young Sholom entered a Russian high school. This was a bold and an uncommon event for the Jewish medium of the time.
In 1876, after having graduated cum laude from the school and not willing to be a burden on his large family, Sholom Rabinovich starts an independent life. He gives private lectures on general educational topics in Pereyaslav and Rzhishev. Soon the 18 year old young man finds himself in the house of Loyev, a tenant of a rich estate in Sofiyivka not far from the town of Boguslav, as a teacher of his daughter Olga.
The young teacher and his young student fall in love with each other. Old Loyev brutally breaks their affair, even though before that he liked Sholom a lot, and even used him for three years as a personal secretary.
The teacher and the student did not see each other for several years.
In 1883, Sholom met Olga Loyev again, they got married against the will of her parents and settled down in the town of Bila Tserkva. Olga became his faithful friend, assistant and companion in his hard life of a writer. Seeking his fortune, the young man goes to Kyiv, with its rich cultural life and abundant beauty. The laws of the time did not allow all social classes of Jews to reside in Kyiv. After having experienced the horror of police raids, Sholom was forced to leave Kyiv for Bila Tserkva.
Later, in order to have a source of subsistence, he takes, without too much enthusiasm, the office of the official rabbi in the town of Lubny, where his duties included registration of births, marriages, divorces and deaths among the Jewish population.
The family
For Sholom Aleichem, his home was an integral part of his existence, which kept the secrets of his life and work. Rewording a well-known maxim, we could say that "If you want to know Sholom Aleichem, enter his house."
The house of Sholom Aleichem was a mirror reflecting equally well his inner life and his esthetic principles.
Stand 2
Large photo: Townhall in Lubny.
1. Brodsky synagogue, Kyiv (to which Sholom Rabinovich went).
2. A portrait of the writer (1888).
3. A letter, filled with love, to his wife (dated March 29, 1893, Odessa).
4. A portrait of the writer made at the time when he worked as a private teacher in the house of Loyev, a Jewish landowner from Sofiyivka, the father of his future wife Olga.
5. A letter with the personal stamp of Rabbi Solomon Rabinovich dated July 15, 1882, to his friend Avram Yampolsky (kept in Sholom Aleichem Museum in Tel Aviv).
6. Sholom Rabinovich with his future wife Olga before their marriage (1883).
Next to Stand 2 you can see an improvised room of an average Kyiv household.
Photos on the wall:
1. Sholom Aleichem with daughters Tisi and Lyalya (1888).
2. Sholom Aleichem's daughters Ernestina, Lyalya, Emma, Marusia and son Misha (1899).
3. Sholom Aleichem with wife, daughter Lyalya, son Nyuma, grandchildren Tamara and Bel.
4. Sholom Aleichem with daughter Lyalya (Switzerland, 1911).
5. Family photo: Sholom Aleichem and his son Misha. In 1893, the writer got a new address: Velyka Vasylkivska St, 5.
In his apartment at 5, Velyka Vasylkivska, the writer lived in 1896-1903 (he left this house some time between April and August of 1903). This was the most productive time of his writing career. Here he wrote "Menachem-Mendl", "In the Small World of Small Men," "New Kasrylivka (The Whole of Berdichev)," some novels from "Tevye the Milkman," as well as tens, if not hundreds, of short stories. He lived on the third floor.
Stand 3
Photo:
1. The map of Kyiv with its suburbs, early 20th century.
2. Portrait of the writer (Kyiv, 1886).
3. The writer's father, Nachum Rabinovich (1888).
4. A copy of "Hasfira" (a Hebrew newspaper) dated February 18, 1879 with an inscription made by Sholom Aleichem: "My first printed word."
5. Sholom Aleichem's novel "A Knife" (first published in St. Petersburg in 1887). The author himself wrote that this was his first printed work that attracted attention of critics (including a positive opinion of historian Shimon Dubnov).
Sholom Aleichem's first printed works were articles in "Hasfira" newspaper written in 1879. Later, two of his articles on the reform of heder and on military service appeared in the same newspaper. Sholom Aleichem wrote his first works in Hebrew.
Later, however, he started using Yiddish, the Jewish spoken language. The young writer aspired for his works to be comprehensible to large Jewish audience. Since that time, he started signing his works with his pen name, Sholom Aleichem, which soon became the most popular with Jewish masses.
Literary work became for Sholom Aleichem the main meaning of life. The young writer donated a large portion of his capital (inherited after the death of his father-in-law) for the promotion of Jewish literature: he started publishing the literary digest "Di Yiddishe Folks-Bibliotek" ("Jewish Popular Library"), in which the most prominent Jewish writers took part.
Stand 4
Items:
1. "Hazman" newspapers.
2. "Jewish Voice" magazine (printed in Kyiv at the end of the 19th – early 20th century).
3. A portrait of a prominent Jewish writer Mendele Mocher-Sforim, one of the first writers in Yiddish.
4. A letter from Mendele Mocher-Sforim to Sholom Aleichem.
Stand 5
The stand presents Jewish publications of the time (including those published in Odessa) (From the archives of Vernadskiy Library).
Above the stand are views of Kyiv from early 20th century.
Stand 6
1. "Kievlyanin" newspaper, 1895.
2. Sholom Aleichem at his working table (St. Petersburg, 1904).
3. Sholom Aleichem at his working table (Odessa, 1904).
4. Sholom Aleichem in the family circle (1903).
5. Sholom Aleichem with his wife Olga (Schwizwald, Germany, 1909).
6. Sholom Aleichem with his wife Olga and son Nyuma (New York, 1907).
7. Sholom Aleichem with family at a resort (Nervi, Italy, 1912).
The source of talent and inspiration of the writer can be found in traditional Jewish life cycle, in Judaism, and in the history of the Jewish people. It is impossible to thoroughly comprehend the world of Sholom Aleichem's literary works without at least some superficial acquaintance with the Jewish Tradition.
Cases with ritual items and books
1. Bimah cover.
2. Sidurs and Machzors (prayer books).
3. One of the prayer books is printed in Yiddish. Cardboard plates with texts of prayers (were used by members of Chevrah Kadishah society (Funeral Society).
4. Tfillin, boxes holding parchment rolls with quotations from the Torah (Pentateuch).
5. Mezuzah, a parchment roll in a silver case with quotations from Pentateuch. Mezuzah is attached to lintels of entrance doors of Jewish houses.
6. Wooden forms for baking gingerbread.
7. "Tsena Urena," texts from the Torah and commentaries to them in Yiddish, adapted for women.
Case 2
Items used for ritual purposes.
1. Rimonim, adornments for Torah scrolls.
2. Kether-Torah (the Crown of Torah).
3. Metal lamp shade.
4. Tas or Torah-shild (the Shield of Torah), adornment for Torah scrolls.
5. Yad, pointer used for reading Torah scrolls.
6. Besamim (incense box), a ritual item used for Havdala ritual (Fairwell to Shabbat).
7. Chanukah candles.
Table on podium
1. Talmud, a Jewish sacred book.
2. Shabbat candlesticks.
3. An antiquarian matches holder.
4. The bust of Sholom Aleichem (terracotta), 2007, by sculptor Ihor Voytsenko.
On the chair next to the table:
1. Talit, a cover that married men wear for prayer.
2. Talit bag.
Stand 7
Events of the time
1. Kostyantynivska St., Podil, Kyiv.
2. "Kievskaya Mysl" newspaper with photographs of Jewish pogroms.
3. A letter from Maksim Gorky to Sholom Aleichem with the invitation to take part in Russian publications of Yiddish literature.
4. Title page of literary digest "Hilf" ("Help") published on the initiative of Sholom Aleichem after pogroms in Kishinev (Warsaw, 1903).
5. A letter from Chekhov to Sholom Aleichem regarding his participation in literary digest "Hilf" initiated by Sholom Aleichem after pogroms in Kishinev (June 19, 1903).
6. A letter from Leo Tolstoy regarding the publication of literary digest "Hilf" initiated by Sholom Aleichem after pogroms in Kishinev (1903).
In October 1905, the writer witnessed the horrors of a Jewish pogrom in Kyiv. Overwhelmed with this tragic event, Sholom Aleichem leaves the country in a depressed state. He travels to Romania and Galicia, and spends some time in London. Later he described his impressions from these travels in his novel "Travelling Stars." After long wandering, Sholom Aleichem with his family leaves for America.
Despite his huge popularity overseas, he missed his homeland and returned to Ukraine.
In summer 1908, the writer undertakes a journey of towns and shtettls in which Jews lived. This was a truly triumphal tour. The Jewish population met its favorite writer with great enthusiasm.
At one of the literary evenings Sholom Aleichem caught a cold, which developed into a serious illness, and on doctors' advice left for Italy to recover.
His friends organized a fundraising campaign among his readers to pay for his treatment. People willingly donated their savings to save the life of their favorite writer. And the funds raised on the occasion of the 25th anniversary of his creative work allowed for buying out his works from publishers. In 1909, a Russian publishing house "Sovremennye Problemy" launched the publication in the Russian language of the complete works of the great Jewish writer. The opinion of the Russian critics with regard to this publication was very favorable.
Stand 8
Mariyinsko-Blahovishchynska St. (now Saksahansky St.). One of the streets in which Sholom Aleichem lived.
1. The last trip to Russia (Grodno, summer 1914).
2. Sholom Aleichem writing his autobiographic novel "From the Fair" (Fleishman Station, New York, summer 1915).
3. "Ogonyok" magazine, 1915.
4. A magazine dedicated to the "Beylis Affair."
The writer's thoughts were always with his homeland. The infamous Beylis affair, a blood libel case, was initiated in Kyiv in 1913. The whole world was indignant. Representatives of Ukrainian and Russian intelligentsia, following suit of Gorky and Korolenko, raised their voices in protest.
Ukrainian cultural figures, such as Kotsyubinskiy, Zankovetska, Sadovskiy and others, opposed the Black Hundreds, a Russian nationalist organization. Sholom Aleichem closely followed the process. The imperial court was forced to declare Beylis not guilty. However, this case remained forever in people's memory, bringing shame upon the instigators of Jewish pogroms.
Materials of this lawsuit were used by Sholom Aleichem in his novel "Blood Joke" (1912-1913).
Sholom Aleichem spent many years abroad: in Italy, Germany, and Switzerland.
(see postcards on the wall)
Stand 9
Publications of the writer's works published within his life.
Stand 10
Lithographs by prominent Ukrainian artist Zinoviy Tolkachov. Illustrations for Sholom Aleichem's works.
Sholom Aleichem used any possibility to visit his homeland, Ukraine and Russia. In 1914 he travelled again to the Western gubernias of the then Russian Empire, which in the near future were to experience all the horrors of the First World War.
During his journey in 1914, he again appears before his audiences in different towns and shtettls, and meets another classic of Jewish literature, I. Perets.
When the First World War burst out, the writer was in Germany, at the resort town of Ahlbeck.
He was lucky to get out of Germany, with great difficulties. At the end of 1914 he reached New York.
In America, Sholom Aleichem missed his homeland and was dreaming of returning home with the first steam boat as soon as the war is over. However, this dream was not to come true. An illness weakened his organism, and he was bedridden for a long time. On May І3, 1916, Sholom Aleichem passed away. Thousands of people gathered in the streets to bid him farewell.
Stand 11
Photo: Velyka Vasylkivska and Khreshchatyk streets.
1. Sholom Aleichem's last study (Bronx, New York).
2. Sholom Aleichem on his deathbed, a drawing by Joseph Levit (New York).
3. Funeral cortege to Ohel Tsedek synagogue (New York).
4. Sholom Aleichem's funeral (Kelly St., Bronx, New York).
5. Funerals from the writer's last home (New York).
6. Prayerbook opened on the page with a memorial prayer.
Stand 12
Memorial events.
1. Friendly caricature by David Levine (Davar Hashavuah publication dated September 3, 1981).
2. A public function dedicated to the 80th anniversary of Sholom Aleichem's birth, with Sholom Ash, Shmuel Nuger, and Zalman Shneur.(Town Hall, New York, June 1939).
3. A concert dedicated to the 35th anniversary of Sholom Aleichem's death (New York, 1951).
4. A public function dedicated to the 100th anniversary of Sholom Aleichem's birthday, with Tsvi Avnon, Israeli ambassador to Sweden, taking part (Stockholm, 1959).
5. A concert in Moscow dedicated to the 100th anniversary of Sholom Aleichem's birth.
6. A drawing by Samner, dedicated to the 100th anniversary of Sholom Aleichem's birth.
7. "Sholom Aleichem's World" stage play at Barbizon Plaza theater (New York, 1952).
Photos on the wall
1. Monument to Sholom Aleichem on Rohnidynska St. (by Valeriy Medvedev).
2. Memorial plaque on the building in which the writer lived at 27, Saksahanskoho St. (former Mariyinsko-Blahovishchenska St.). Sculptor Valeriy Medvedev.
3. Monument to the writer in his home town of Pereyaslav-Khmelnitskiy.
4. Memorial plaque next to the monument.
"They lived in Kyiv", a publication by the Institute of Jewish Studies. Photos and short biographical data on prominent Jews that were residents of Kyiv.
Showcases in the center of the hall
1. Photos from "Tevye Tevel" play staged at Ivan Franko theater, starring prominent Ukrainian actor Bohdan Stupka.
2. Presidential Decree on celebrating the 150th anniversary of Sholom Aleichem's birth.
3. Commemorative coin and stamp issued for the 150th anniversary of Sholom Aleichem's birth.
4. Sketches of the commemorative coin (by sculptor Yuliya Skoblikova).
5. Commemorative event at Pereyaslav-Khmelnitskiy.
6. A booklet of Sholom Aleichem museum in Pereyaslav-Khmelnitskiy.
7. An envelope with a cancelled stamp (issued in Kyiv for Sholom Aleichem's 150th anniversary).
8. CD disk with recorded Sholom Aleichem's voice.
9. Writers Hryhoriy Polyanker and Dmytro Pavlychko planting trees in Sholom Aleichem Street, Kyiv, at an event dedicated to the writer's 125th anniversary.
10. Public function dedicated to the 125th anniversary of Sholom Aleichem's birth.